I will call him "Gaston." We have been discussiong energy issues and politics via facebook and that venue has some limitations so I would like to respond to him here. It would be unfair for me to post his comments out of context but we are discussing how transitioning to electic power (nuclear specifically) could help us become less dependent upon fossil fuels. He has graciously given me his plan. Below is my response.
Gaston,
I can not claim to be from Missouri but I have always had a good time when visiting and have adopted a "Show Me" attitude to our political parties. I do not trust either of them.
As far as who is willing to actually do what, we need to look at what state governments are doing. I have been following developments of offshore wind in Maine (Dem government and help from a very Republican private citizen Matt Simmons).
Maine Wind Project
This is a news story on the very first installment on a much larger plan. If you would like I can find an interview with Simmons talking about the larger project. It is by far the most ambitious I have ever heard and it is being done in a Blue state with the support of Red money. That is something I can believe in because I can see it and it is not partisan.
Likewise if we look at where wind farms have been built (as a proxy for where there is political will and public/private money) we will see that while they cross red, blue and purple states they are absent in the South East, the heart of the modern Republican party.
To be fair, I will add that the South East is a pretty poor place to try to make wind power.
But there is the problem that we tend to discount what we cannot see and that is why I am skeptical about the southeast supporting wind in the rest of the nation and the SouthEast is important to any Republican candidate. This is not to say that I think wind is the only solution; I am only trying to talk to why I do not trust either party. One is, at least, trapped in its rhetoric. Other than John McCain's
nuclear proposal
I am hard pressed to remember any time a national candidate has made it an issue. Perhaps you can point me to more? I know the
heritage foundation
has supported the idea but that is not the same thing as communicating and selling it to the public.
I must confess that I have more faith in local initiatives than I do national ones. That is not saying much, however.
But to the heart of your argument, what I call the French solution
articulated another way
. I was surprised and heartened at the place you give to the national government. I must confess that I did not expect such a statist solution. I think it would provide many of the things that we need to move forward. I will only point out some places that I think it might need further explanation or expansion. As I close I may allow myself to become a little more pessimistic, and you will see why I think we have already wasted too much time for even the best of plans pull us out of the situation we find ourselves in.
1)How to pay for the funding of nuclear plants. Does the government cut a check or how do you see the funding working. At ~9 billion a pop this is not a small matter but neither is it insurmountable.
2)Will the libertarians really buy into support mandated transitioning? This seems like a pretty big pill to swallow. What kind of public education is required to get them to buy into the idea? Will this be "government seizing the electrical grid."
3)Cash for electric cars: sounds good. I know some people who would lead the way in buying them. We do have a problem with battery technology however. Today's technology uses a lot of rare earth metals. They are rare. They pretty much come from
China
and China is moving toward limiting their
export
at some level I believe we would need to move toward the electrification and diversification of how we move people. More electric trains and trollies etc…
4)Then there is the cultural problem. This is not a small cultural shift for America. Who will tell us that the way we commute must change? It would have more weight if it came from a Republican and I would support him or her if they carried the torch (heck, I will write a check for them and I have never written a check to a pol in my life) but I am not hopeful when I hear the grassroots ridicule of Carter and his MEOW speech and wool sweater.
5)We would also have a real problem in
Jevon's paradox
so as we move away from gasoline as a transportation fuel it might become cheaper (this depends on if we get ahead of the depletion curve). In other words the more successful we are the more we might undermine our own success. This is one thing that has made it difficult for
Picken's plan
I love a powerful engine. Many other Americans do as well. If we are to avoid a whipsaw of public opinion I would suggest we need to set a minimum price on transportation uses of oil (gasoline and diesel) which is artificially and painfully high. If it could move up over time, that would be even better. It is not enough that we make electric cheaper but there must be an expectation that petroleum will continue to be more expensive.
6)The grid will need to be upgraded and hardened. Not only will we need additional capacity to move all of those electrons we will also but we will be even more dependent upon those electrons. The absence of transmission lines is what killed (or at least paused) Picken's
ambitious plan
. The grid as it stands is a very soft target to
Mother Nature
, human error and
malicious attack
. It already needs a lot of investment and the more we depend upon it the more vital that investment becomes. That will also need to be paid for. We will need to figure out who and how.
Honestly, I do not expect either party to act soon enough or fast enough to deal with the problem in a systematic, thought out manner. There will be a lot of flailing and blaming whenever the reality of depletion becomes undeniable.
Cantrell
has shown us the worse edge of what we can expect at a depletion rate of 25 - 30%. Saudi practices are closely guarded secret so at least you and I have no way of knowing how they have managed their fields and what kind of depletion rate to expect. I will not reiterate its finding but the
Hirsch Report
deals with the need to start early to avoid major dislocations if we are to mitigate peak oil. It is too late to start early.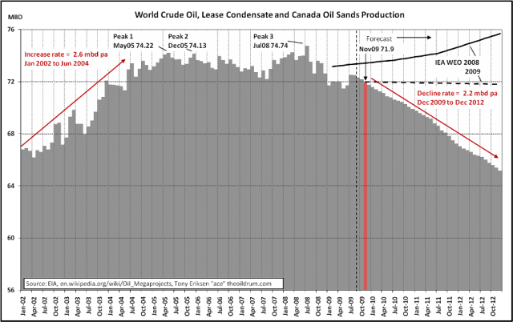 Frankly, owing to the volume that we import even a slow depletion would be devestating. At five years from ground breaking to electricty generation we can not afford to get behind the curve of depletion. Assuming a middle of the road depletion (or optimistic) rate of 6% we would be at 73.4% of peak supply before the first reactor came on line. And the building would have to be done at a time of great economic contraction caused by the decreased supply so you can see why I am pessimistic. On paper I think your plan could work at least if we had started even a decade ago. The problem is we don't even have plans to start tomorrow.