---
So those of you who know me, know I am a truck owner driver. My wife and I each own and drive a truck with our own trailer. We are independent, but have an "agent" who chooses "with" us which and books our loads from the people who are trying to book the truck. He gets our signed contracts for each load before we go to pick up the load and negotiates all details of pay insurance requirements etc. He also does the credit checks on customers and decides which will have to pay in advance and which have the credit to pay after delivery instead of before delivery. We do not move households, only industrial, museum, government loads. The customer I am working for now is a years long steady customer who booked the load suddenly this morning when he realized I was empty in the area.

Tonight I am sitting half loaded in a ghost town, a 10 block by 20 block office complex. I am in Irvine California.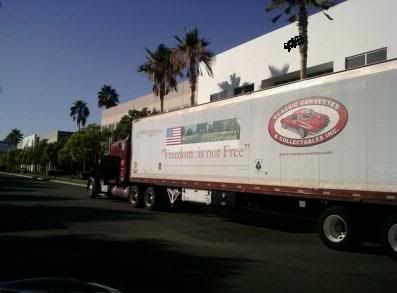 This morning I delivered a "green shoot". The counters and shelves for a new pet store in Poway, California. It was one of several that are being opened in the area in stores that have been left vacant. Then this afternoon I started loading the remains of 850 mortgage broker/banker jobs. The used office furnishings that have been sold after the mortgage data center was closed.

I am getting the "pickings" ( high end all wood corner office) to make up 50 offices, these will go into a used office sales room half way across the country. The remaining furniture will be destroyed or sold at auction as junk.

I had a wave of these types of loads last year at this same time of year. If you look on my trucking blog you will see pictures of me loading at banking centers last year from New Jersey to North Carolina to St Louis, Mo to Los Angeles to Detroit to Boston. All similar, the pickings to sales and installation companies, the rest to junk as surplus. This type load was followed closer to winter by movements of insurance data centers as multi state companies consolidated to their home offices.

Just this week ( in fact this morning) my agent started getting frantic calls from the same companies that used us so much last year to start booking loads again. The man loading my truck does this sort of loading around the country for a living,

I see him and a few others like him several times in several different states when a closing like this starts happening. He is booked up till after Christmas and was questioning me closely about the availability of trucks like mine instead of the trucks he has been seeing lately.

We had that discussion again price, service, quality... pick any two!

I was going to post about JIT today. I may write that one next. BUT FWIW I thought I would mention that I am looking at a lot of bank data center closings from now till Christmas for some reason.. AGAIN just at the same time as last year.

Oh this Ghost town.. The oldest building is about 10 years old at most, nice city block sized 2 and 3 story office secure data centers, each with lots of parking, each with café in the building, sidewalk café space on one end Gym and workout center on the ground floor and some even with child care centers. over half of them are already empty, ( I helped empty one of them last year).

I walked to the neighborhood Starbucks about 3:30 pm. to get a pumpkin spice latte. I was the only customer in the place. The first of 3 buildings I loaded at shared a massive parking lot with 4 other buildings, only one of them was still occupied ( an insurance company data center).

The second building I loaded at shares a parking lot with 3 other buildings, I am at one of them now the third building I will load out of, another is vacant, the last is a brokerage data center. That brokerage center will be the only occupied building of the four that share this massive parking lot soon. The 850 mortgage brokers and reviewers and staff that used to work in the 4 blocks of two story buildings I am getting furniture from, I wonder what they are doing now? I met the kitchen staff from one of the in house contract café's , along with the gym staff, they were all getting laid off while I was loading today. The contract gardener was picking up his tools on his last day of work.

None of these building are old enough to be paid for. More than half of them are empty, within the next month four more of them will be. Then the closing will move on to 8 other cities across the nation.